With high-resolution and high-refresh rate displays being commonplace on the market, it's important to remember that not all ports are made equal. Most high resolution graphics cards will be outfitted with a combination of HDMI ports and DisplayPorts.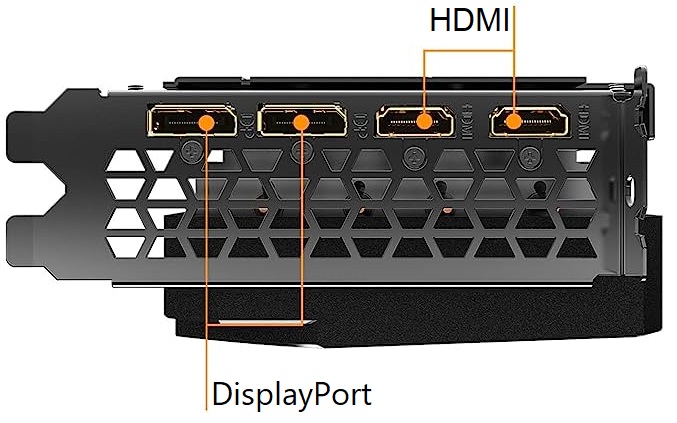 Where possible, we recommend to utilize DisplayPort, as typically, they are the more capable ports on your graphics card, allowing you to run your monitor at its highest refresh rate. You may find HDMI ports more convenient though, with the port being widely adopted on many other existing audio/visual devices you'll find around home such as a television or projector, opening possibilities to more gaming experiences.
Different ports, different capabilities
Furthermore, both HDMI and DisplayPort are evolving standards, changing to match the demands of gamers and power-users. HDMI and DP ports may look identical to the eye, but to identify what kind of port you have on your monitor or graphics card, its best to check the manufacturer's spec sheet. Below is a quick reference for the different standards and their capabilities.
HDMI

HDMI 1.0 - 1.1
HDMI 1.2-1.2a

HD 1080p - 60hz
QHD 1440p - 30hz

HDMI 1.3 - 1.4b

HD 1080p - 240hz
QHD 1440p - 144hz
4k 2160p - 60hz

HDMI 2.0-2.0b

HD 1080p - 240hz
QHD 1440p - 240hz
4k 2160p - 120hz
5k 2880p - 60hz

HDMI 2.1

HD 1080p - 240hz
QHD 1440p - 240hz
4k 2160p - 240hz
5k 2880p - 120hz
8k 4320p - 120hz

DisplayPort

DP 1.0 -1.1a

HD 1080p - 144hz
QHD 1440p - 85hz

DP 1.2 - 1.2a

HD 1080p - 240hz
QHD 1440p - 165hz
4k 2160p - 75hz

DP 1.3 - 1.4a

HD 1080p - 240hz
QHD 1440p - 240hz
4k 2160p - 120hz
5k 2880p - 60hz

DP 2.0 - 2.1

HD 1080p - 240hz
QHD 1440p - 240hz
4k 2160p - 240hz
5k 2880p - 180hz
8k 4320p - 85hz